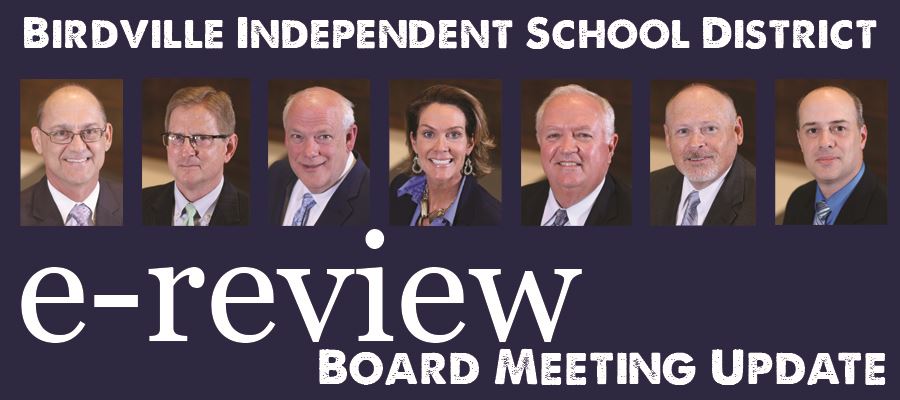 April 22, 2021 |

Vol. 42, No. 10
Partners in Education Recognition
Tyson Foods, represented by Terry Patton and Marte Amrine, was recognized as an active business partner with BISD's Career and Technology Education (CTE) program. Tyson Foods has generously supported CTE's student scholarship program for more than 10 years.

Birdville Council of PTAs 2020–21 President Candice Bishop, Fifth Vice President Clothes Connection Cathy Langston, and Sixth Vice President Supply Depot Melissa Flowers were recognized for their outstanding leadership of the Birdville Council of PTAs, Clothes Connection and Supply Depot.
Summary of Actions
Approved the donation from:

Schoolstore.net to Binion Elementary.

Approved the North Richland Hills relief sewer line easement.

Approved the change order with Adolfson & Peterson Construction for Haltom and Richland middle schools modular science lab relocations.

Approved the 2021–22 instructional materials allotment and TEKS certification.

Approved budget amendments.
Bids Awarded
Approved the bid/purchase for:

Bilingual resources from Benchmark Education.

Approved the contracts with:

MSB Consulting Group for Medicaid billing and consultation services;

Frost Bank for depository services; and

Edgenuity for renewal of online learning software.
Future Board Meeting
Thursday, May 20, 2021, Regular Board Meeting, open session at 7 p.m., Boardroom.
---

excellence | integrity | service