Thank you for choosing W.A. Porter Elementary! If you plan to attend Porter as a new student in the 2020-2021 school year - this is the place for you!
Kindergarten students can begin registration online now at www.birdvilleschools.net/studentregistration. Pre K students can also register at the same web address starting July 20th.
You can also reserve your registration appointment now.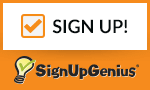 At this appointment, you will bring all of the required documents to complete your child's registration.
Items Needed:
Birth Certificate (required)
Proof of Address (required) - you may have already sent this. This is usually a utility bill, but can be a closing sheet, lease agreement or similiar.
Immunization Record or Waiver (Required)
Parent ID (Required)
Social Security Card (highly recommended)