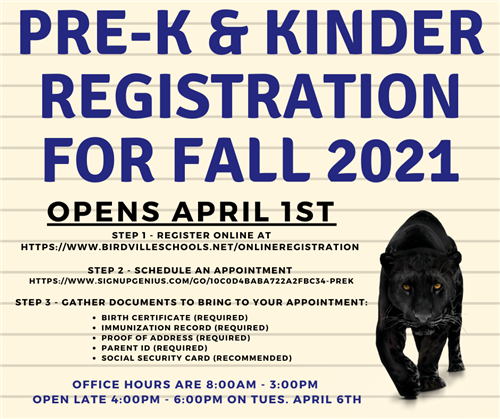 Registration opens for Pre-K and Kindergarten ONLY on April 1st, 2021. Parents will need to follow these steps to complete their registration:
Step 1:
Register Online at https://www.birdvilleschools.net/onlineregistration
Step 2:
Schedule an appointment to complete your registration:
https://www.signupgenius.com/go/10C0D4BABA722A2FBC34-prek
Step 3:
Gather documents to bring to your appointment:
Birth Certificate (Required)

Immunization Record (Required)

Parent ID (Required)

Proof of Address (Required) - most often is utility bill, can also accept sales sheet, lease agreement

Social Security Card (Recommended)
Other Notes:
Families should always register at their home zoned school, even if you believe you may be placed at another campus for a special program.
If you have questions, reach our attendance clerk/registrar at Nicole.passmore@birdvilleschools.net or 817-547-2913.