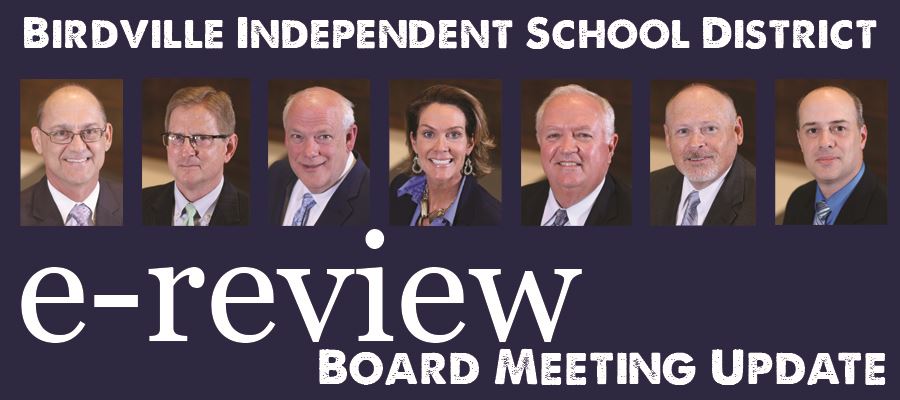 February 25, 2021 |

Vol. 42, No. 8
Partners in Education Recognition
Acuity Brands Lighting, Inc. and representative Leslie Caban, were recognized for their support of North Ridge Elementary School. Acuity conducted a sock and underwear drive to benefit the North Ridge Elementary students. They collected and donated 330 pairs of socks and 340 articles of underwear.

Raising Cane's Restaurant and manager Jeremy Goad were recognized for their support of Smithfield Middle School. They have donated meal gift cards for Smithfield's Staff Spotlight each week for the past two years.
Summary of Actions
Approved the donation from:

Hawk Diamond Club to Birdville High School baseball program.

Approved Thompson & Horton, LLC to conduct the superintendent search for the District. BISD Superintendent Dr. Darrell G. Brown announced his retirement effective June 30.

Approved the resolution to pay employees due to missed winter weather days.

Approved the change in the date of the BISD Board of Trustees meeting in May 2021. The May meeting will conflict with the high school graduation ceremonies. The changed date is Thursday, May 20 at 7 p.m.

Approved the 2021–22 District calendar. > View 2021–22 Calendar

Approved budget amendments.
Public Hearing
A public hearing was conducted for the District 2019–20 Texas Academic Performance Report (TAPR). 
Bids Awarded
Approved the bid/purchase for:

Fluid-applied roofing system for W.G. Thomas Coliseum from Tri-Lam Roofing and Waterproofing, Inc.; and

Fire alarm system replacements at Shannon High School and the Administration Building from FPS Fire Protection Specialist, LP.

Approved the bid/purchase for: (Monies for these projects will come from 2018 Bond funds.)

Furniture for Haltom and Richland middle schools and Smithfield and Cheney Hills elementary schools from Indeco Sales, Inc.;

Generator equipment for the Technology Department at the BISD Plaza from Freedom Construction; and

Technology Data Center cabling from Superior Fiber & Data Services, Inc.

Approved the contracts with:

The City of North Richland Hills for School Resource Officers (SROs);

The City of Richland Hills for School Resource Officers (SROs);

The City of Watauga for School Resource Officers (SROs);

Cenergistic LLC Energy Management contract renewal for energy management services for the District; and

DFW Mechanical Group for HVAC preventative maintenance at six facilities.
Future Board Meeting
Thursday, March 25, 2021, Regular Board Meeting, open session at 7 p.m., Boardroom.
---

excellence | integrity | service