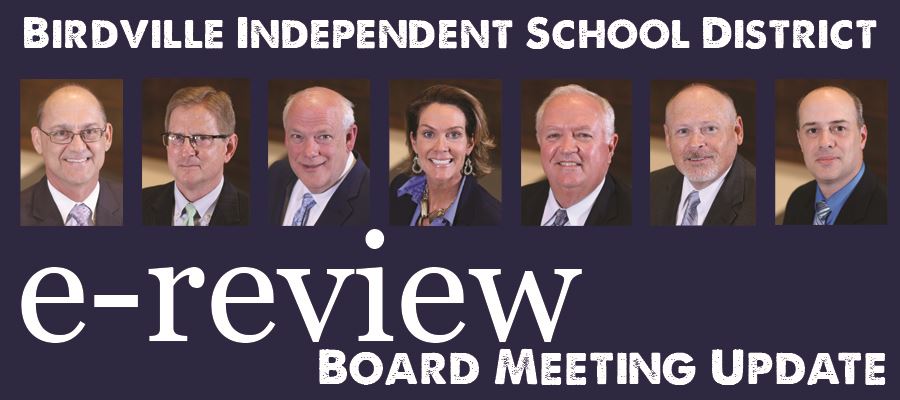 January 28, 2021 |

Vol. 42, No. 7
Student Recognition
Benjamin Torres, fourth grader at Binion Elementary, was recognized as BISD's 2020 Holiday Card Contest winner.
Partners in Education Recognition

The BISD Board of Trustees was recognized for its leadership and commitment to the students of the District.

City Point United Methodist Church in North Richland Hills was recognized for its support of Binion Elementary School. Representing the church were Jeff May, pastor, and Sharma Castillo, director of program ministries. The church provides school supplies, clothing, food for students and food and prizes for staff.
Summary of Actions
Approved the donations from:

Birdville Education Foundation to BISD;

Upper Ninety Booster Club to Birdville High Girls soccer; and,

Upper Ninety Booster Club to Birdville High Boys soccer.

Approved the resolution authorizing the extension of available leave as defined in the Families First Coronavirus Response Act (FFCRA) until June 30, 2021.

Approved the Order of Trustees General Election for Saturday, May 1 to fill Places 3, 4 and 5 (currently held by Whitney Harding, Jack McCarty, and Richard Davis respectively).

Approved the memorandum of understanding (MOU) for dual credit courses with Tarrant County College.

Approved the ESC Region 20 Special Education Supports Cooperative Interlocal Agreement.

Approved the Tarrant County District Appraisal fees for 2021.

Approved budget amendments.
Bids Awarded
Approved the bid/purchase for:

Lighting replacement at Birdville High School from Facilities Solution Group (FSC).

Approved the bid/purchase for: (Monies for these projects will come from 2018 Bond funds.)

Playground equipment for Cheney Hills and Smithfield elementary schools from T.F. Harper and Associates, LP;

HVAC replacements at Birdville High from John Cook and Associates;

Technology removal and replacement following HVAC work at Birdville High from Nationwide Network Technologies, Inc.;

Laptops from Delcom Group;

Projectors and screens from Howard Technology Solutions;

Network equipment for the new campuses from Flair Data Systems; and

Microsoft Teams voice desk phones and headsets from multiple vendors.

Approved the contract with:

REV Entertainment, LLC for Birdville, Haltom and Richland 2021 graduation ceremonies at Globe Life Field.
Future Board Meeting
Thursday, February 25, 2021, Regular Board Meeting, open session at 7 p.m., Boardroom.
---

excellence | integrity | service