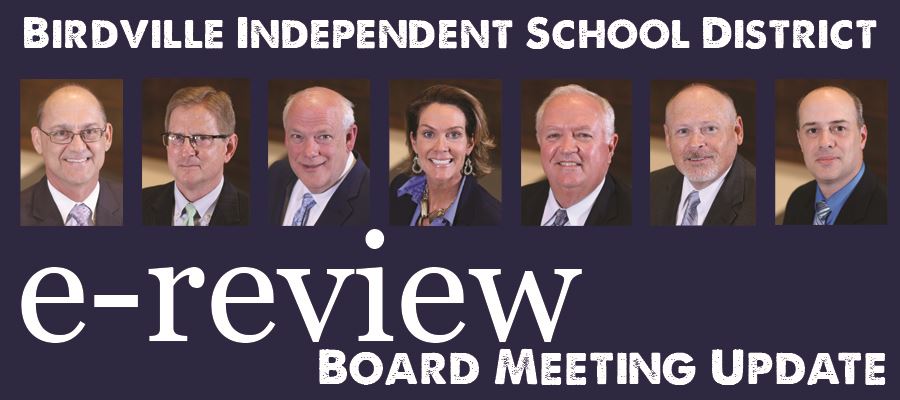 October 22, 2020 |

Vol. 42, No. 4
Recognitions
David Willburn was recognized for his donation to Francisco Elementary in remembrance of his aunt, Sally Willburn, who taught several years at the school.
Summary of Actions
Approved the donations from:

Atmos Energy Corporation to BISD; and

Rebel Legacy Project to Richland High School.

Approved the Texas Association of School Boards (TASB) Policy Update 115. Update 115 reflects changes in the law based upon recent administrative law and court decisions. Revisions were made to policies: 

BF (LOCAL) Board Policies [replace]

DED (LOCAL) Compensation and Benefits: Vacations and Holidays [replace]

DIA (LOCAL) Employee Welfare: Freedom from Discrimination, Harassment, and Retaliation [replace]

DMD (LOCAL) Professional Development: Professional Meetings and Visitation [delete]

EI (LOCAL) Academic Achievement [replace]

FB (LOCAL) Equal Educational Opportunity [replace]

FD (LOCAL) Admissions [replace]

FEB (LOCAL) Attendance: Attendance Accounting [replace]

FFE (LOCAL) Student Welfare: Counseling and Mental Health [delete]

FFG (LOCAL) Student Welfare: Child Abuse and Neglect [replace]

FFH (LOCAL) Student Welfare: Freedom from Discrimination, Harassment, and Retaliation [replace]

FMF (LOCAL) Student Activities: Contest and Competition [delete]

FNG (LOCAL) Student Rights and Responsibilities: Student and Parent Complaints/Grievances [replace]

GF (LOCAL) Public Complaints [replace]

Approved Mark Thomas and Paige Curry as the superintendent's designees to review and submit staff requests for TEA Secure Environment Access (TEASE) to the Texas Education Agency.

Approved the change order for an offsite water line for Cheney Hills Elementary.

Approved the 2020–21 Campus Improvement Plans.

Approved budget amendments.

Approved the 2020–21 budget amendment for campus 2019–20 rollover funds.

Approved the prekindergarten textbook adoption committee.
Public Hearing
Conducted a hearing for the 2018–19 Financial Integrity System of Texas (FIRST) report. BISD received the highest rating available, Superior Achievement.

Conducted a hearing to discuss the Targeted Improvement Plans.
Bids Awarded
Approved the final payment to: 

Progressive Roofing for roofing at BISD Plaza;

Nouveau Construction and Technology Services for controlled entries at 15 campuses; and

Phillips May Corporation for renovations at BISD Plaza.
Future Board Meeting
Thursday, November 19, 2020, Regular Board Meeting, open session at 7 p.m., Boardroom.
---

excellence | integrity | service