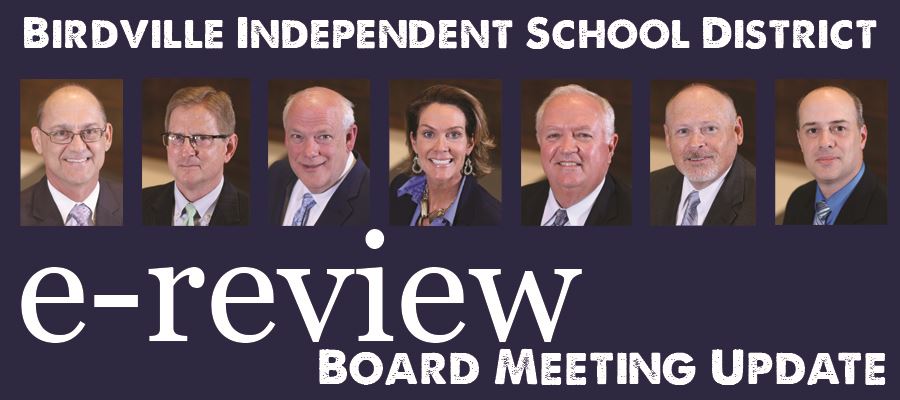 September 24, 2020 |

Vol. 42, No. 3
Summary of Actions
Approved the donation from:

Jordan Elizabeth Harris Foundation to Counseling Services; and

Richland Area Band Boosters to the Richland High School band.

Approved a resolution for a one-time employee incentive payment for all half-time and full-time employees.

Approved the Richland High School mascot spirit mark, crest, flag and other related mascot symbols.

Approved the revised 2020–21 teacher (T-TESS) appraisers.

Approved the revised 2020–21 principal and assistant principal (T-PESS) appraisers.

Approved the House Bill 3 Board Goals.

Approved the 2020–21 District Improvement Plan.

Approved the resolution for recall of Tarrant Appraisal District board member Mike O'Donnell.

Approved budget amendments.

Approved the request for class-size waivers for one section in kindergarten through fourth grade for 2020–21.

Approved donation agreement between Richland Area Band Boosters, Inc. and BISD.
Bids Awarded
Approved the purchase from: (Funds come from Bond 2018 funds)

Ixia Cybersecurity Packet Broker from Future Com.

Approved the final payment to: 

Mobile Modular for modular complexes at Watauga Elementary and North Oaks Middle School.
Future Board Meeting
Thursday, October 22, 2020, Regular Board Meeting, open session at 7 p.m., Boardroom.
---

excellence | integrity | service