New Student Registration
Please go online and complete the new student application via the link below.
Then, come to the Campus with verification documents,
according to the available dates & times.
Click on this link for more information



New Student Documentation Verification





Monday, August 3 or Tuesday, August 4




8:00-11:00 AM or 3:00-7:00 PM


Please Limit the number of people in your party
And make sure anyone entering the building has a face covering.



Park in the South Parking Lot




and enter through the Gym Doors.
---
Helpful Registration Information:
---

With the start of the 2020–21 school year less than 50 days away, BISD, like school districts across the state, is spending this time making plans for the return to school this August. Our plans include regular updates to parents, staff, students and the BISD family on how the COVID-19 pandemic is impacting every aspect of the return to school.
With the uptake of COVID-19 cases over the past week, the Texas Education Agency (TEA) has slowed its release of information to schools across the state regarding in-person (face-to-face) instruction. Even though there are more questions than answers, Birdville ISD is diligently working to develop plans for a return to school on Aug. 17. Our desire is to provide face-to-face instruction with students in the classroom, but we realize not everyone may be ready to return to school at that time. Therefore, we are also planning to offer online learning in addition to face-to-face instruction.

Since BISD is offering more than one option for families, the District is preparing to open registration for the 2020–21 school year on Thursday, July 2. This will allow parents the opportunity to review both plans and determine what is best for their child(ren). The graphic below provides additional information regarding these plans.
On Thursday afternoon, BISD will launch a "Return to School" website. This website will provide additional details related to face-to-face and online learning.
Please take time to review the information on the website, with the understanding it is subject to change based on guidelines received from the TEA, UIL, DSHS and the CDC. Any updates will be shared with parents through the District's various communications channels.

Over the next couple of weeks, I will share additional details on what the District is doing to keep your child and staff safe at school.

I wish for safety for you and your family during this time.

Darrell G. Brown, Ph.D. Superintendent Birdville ISD
---
Kindergarten Online Registration is now available!
Step 1: Please verify your address and make sure to know which school your child should attend: https://webquery.birdvilleschools.net/livewqweb/webquery/
Step 2: Please email proof or residence before July 28th to: Andrea.Tidwell@birdvilleschools.net
Step 3: Complete online registration:
https://familyaccess.birdvilleschools.net/scripts/wsisa.dll/WService=wsEAplus/skyenroll.w
Step 4: Complete the Kindergarten Information Sheet: https://forms.gle/xv4gMF2pLwwSF2Q1A
Step 5: Make an appointment to bring the following required documents to campus July 28th, 29th, 30th
Birth Certificate
Immunization Records
Proof of Residence
Parent/Guardian ID
Scholar Social Security Card
Applicable Court/Custody Orders
2020-2021 KINDERGARTEN APPOINTMENT FORM:
https://forms.gle/uLpHan8GrfidX4nk9
We look forward to meeting you and your Kinder Gator!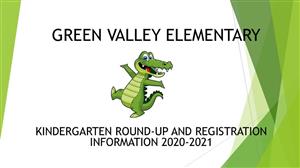 Click on the picture to view the video.
If you have any questions over the summer feel free to email Mrs. Tidwell andrea.tidwell@birdvilleschools.net
---
Pre-Kindergarten Registration Information
Online Registration Available starting July 20th, 2020.
Schedule an appointment now for Pre-K document verification, all appointments will take place July 28-30th, at Green Valley Elementary.
2020-2021 PRE-KINDER APPOINTMENT FORM:
https://forms.gle/KAiwWuozf7isbste6
Complete the online registration before you arrive for your appointment.