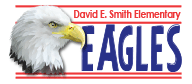 David E. Smith Elementary School is located in Haltom City, Texas. Originally named Browning Heights when it opened in 1954, the name was changed in 1988 to recognize the exceptional leadership of a person who had been the principal for thirty-four years. His demonstration of commitment to the school has been embraced by the staff, students, parents and surrounding community of David E. Smith.
In a world that has experienced much change during the existence of this school, the mission of David E. Smith Elementary has reflected the goal of helping every child reach his full potential. With the support of staff, family, and community we have been able to achieve this goal. The recognized and exemplary ratings awarded by the state of Texas for the last four years are an indication of this accomplishment. In 1998 the school also was designated as a Title I Distinguished school and received a four star rating from Texas Monthly. The community we serve is northeast of Fort Worth, Texas. The school is one of twenty-one elementary campuses in the Birdville Independent School District.
David E. Smith is an outstanding example of a neighborhood school. Many of the children who were students here in the 1960's and 1970's are now bringing their children and grandchildren to be educated in the same classrooms, sometimes by the same teachers. The camaraderie of DES motivates teachers to remain a part of our staff. Several teachers have retired after serving in the school for twenty or more years, and several staff members were former DES students.
David E. Smith Elementary places a high priority on technology and media services. The library boasts a collection of 6000 current items. We have over one hundred computers in the building as well as some of the newest items in technology such as projectors, document cameras, smart boards, and notepads. We are also equipped with distance-learning equipment for further classroom learning.
Families are always encouraged to become contributing members of the school community. We have one of the most active parent volunteer organizations in the district. The hours they spend helping our school is of direct benefit to their children.
The focus of David E. Smith Elementary is on individual student needs. Our leadership, curriculum, support services, teaching styles, general school environment and community partnerships form the foundation for student success. We strive in every area to uphold our motto:
David E. Smith Elementary...Where Eagles Soar!
School Stats:
Mascot - Eagle
Feeder Schools: Haltom Middle, Haltom High