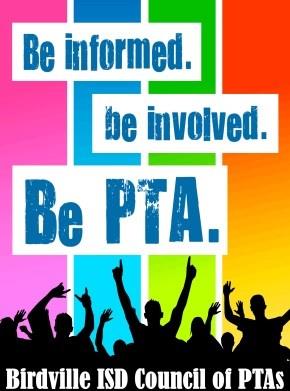 Birdville Council of PTAs 2020-2021 - Schedule of Meetings
September 17, 2020

Delegate Member Meeting – Virtual 9:30am

TBD

Council Member Meeting & Holiday Luncheon –

TBD

PTA Founders' Day Dinner and Silent Auction - W.G. Thomas Coliseum Arena

*Dinner & Silent Auction-

*Council Member Meeting/Reflections & PTA Awards Recognitions –

TBD

Council Member Meeting - Elections

Luncheon & Installation -

*Meeting begins at TBD

*Lunch service from TBD tickets $ to benefit scholarship fund, RSVP required

Council appreciates your support and attendance at these four meetings. As members of our association, your voices and votes are important to us.

In order to earn the attendance flags and cluster award for highest attendance at each meeting, the Principal (or representative), PTA President (or representative) and Two (2) Council Delegates (or alternates) from each campus must sign in before each meeting. Other PTA members and guests are always welcome and may sign in as members-at-large; however, only local PTAs with the 4 required members can win the flags!

Council will also hold a drawing at our April meeting for Presidents and Principals who've attended and signed in at all four meetings.

While any member of a Local BISD PTA is welcome to attend the association meetings, only members of the voting body are allowed to make motions and vote. No proxy voting is allowed. The voting body is comprised of Council officers and chairs, the Local PTA president and principal and 2 delegates, the superintendent of schools or a representative. Alternate are allowed for the Local PTA representation.