Girl Scout Troop 3356 and their Buddy Bench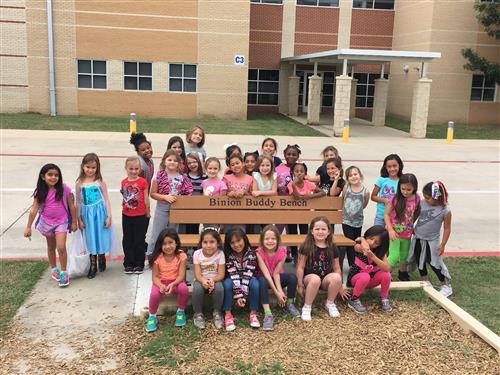 These amazing young ladies are the Girl Scouts and Junior Girl Scouts of Jack C. Binion Elementary. Last year, they initiated a project to get buddy benches placed on our playground. They created and presented their plan of action to administrators, raised funds, and worked diligently to accomplish their goal.
Today, I am happy to say we have two beautiful buddy benches on our playground. We're so proud of your hard work and dedication to making our school an even better place!
Many people may not be aware of what a "buddy bench" is. A buddy bench is meant to eliminate the feeling of loneliness and help create friendships. If a student is sitting on the buddy bench, it simply means they need a buddy to play with or someone to talk to. When a student sees another student sitting on the buddy bench, it's their job to invite them to play or socialize.
#BISDshines #JCBelieve
---