Richland Elementary School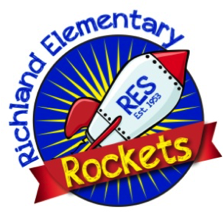 817-547-2000
817-595-5110 (fax)
Faculty and Staff
Kerri Sands, Principal
Chad Paris, Assistant Principal
Michelle Rollins, Counselor
24 Professional Staff Members
10 Support Staff Members
3 Nutritional Staff Members
Enrollment
300 Students-Pre-K through 5th
Mascot
Rockets
Colors
Red & Blue
Instructional Programs
Dyslexia
Advanced Academics
Speech
Special Education
PPCD 3 & 4 year olds
AABLE
Physical Education
Technology
Library
Music
Art
After School Programs:
ASPIRE 21st Century Grant
Richland Mission Statement
Our mission at Richland Elementary is to engage students in a safe learning environment to become socially and academically successful.
Vision Statement
At Richland Elementary we believe the best way to accomplish our mission is by incorporating Professional Learning Communities.
· Plan collaboratively
· Analyze student data and make instructional adjustments
· Continue to learn and refine our skills as educators
· Take responsibility for the education and success of each student while setting high standards
Values/Collective Commitments
· We will embrace the diversity of students, staff, and families to enrich our educational community.
· We will utilize critical thinking, creativity, communication, and collaboration as keys to engage students in their future success.
· We will set goals and higher expectations that will result in academic excellence.
· We will involve the whole school community - students, staff, and families – to educate our students.
· We will be lifelong learners and encourage lifelong learning in our families and students.
· We will attend to the physical, social, emotional, and academic needs of students, staff, and families in an inclusive, positive, and safe environment