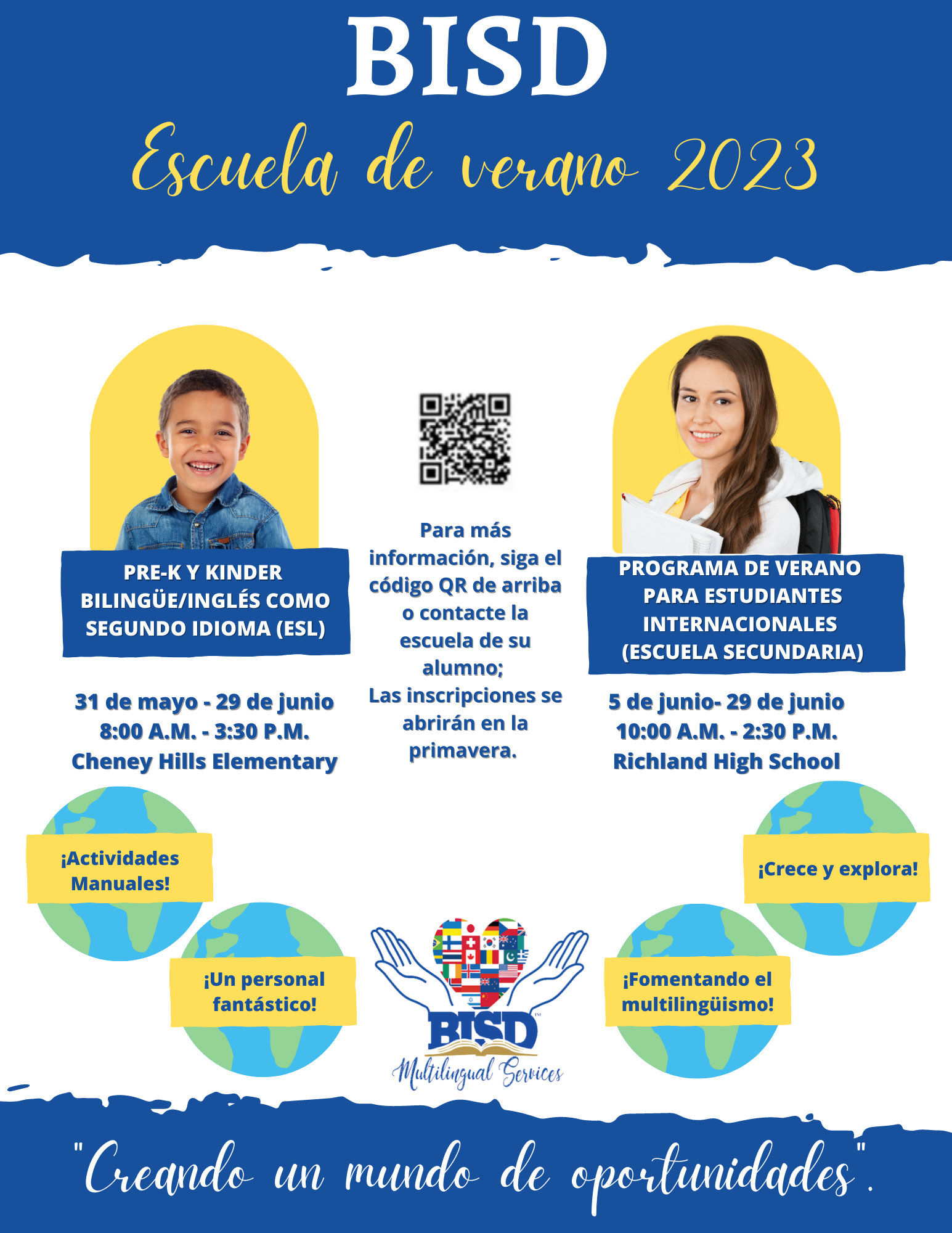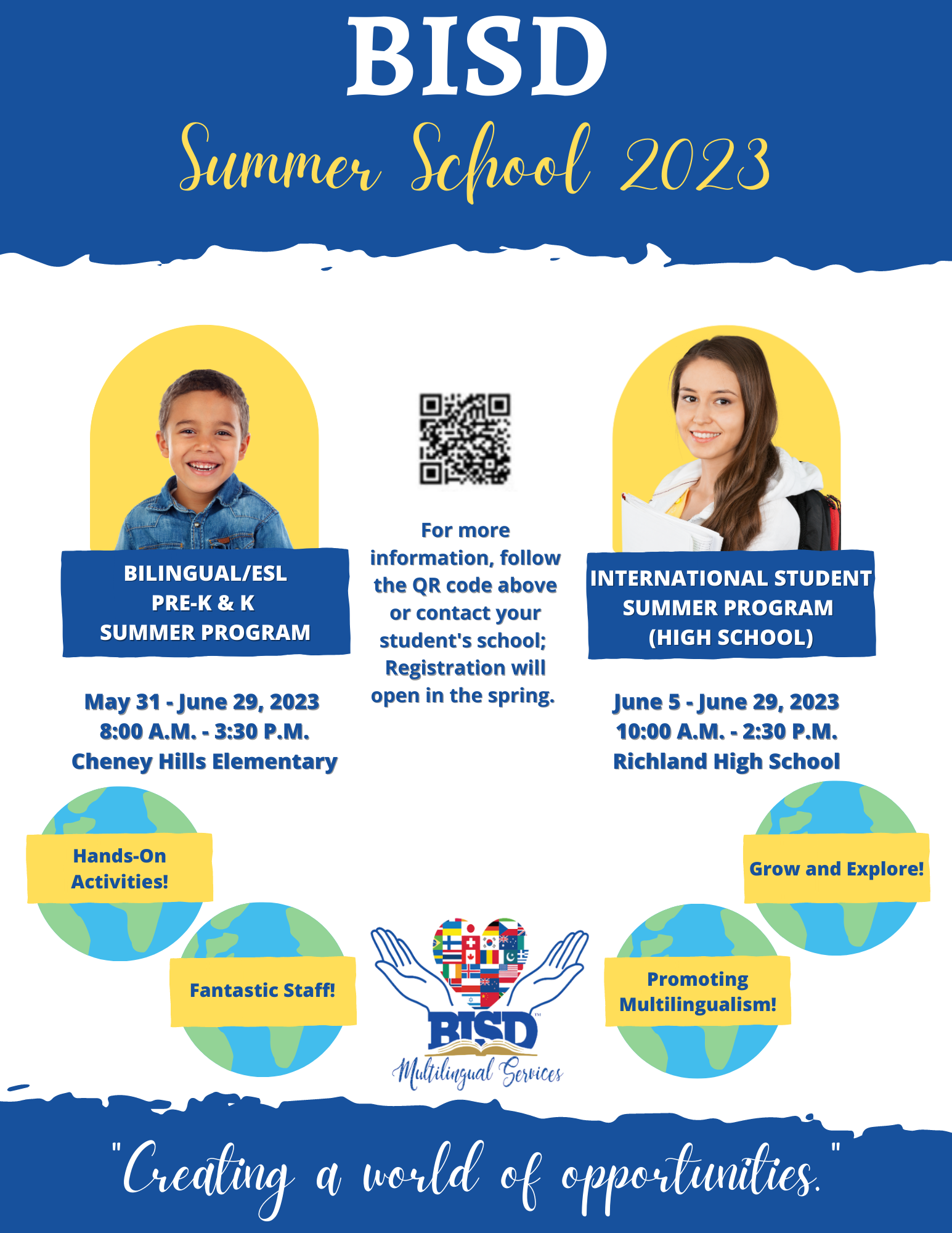 ESL/Newcomer (International Student Summer Program for High School)

Summer School Staff Contacts:

Secondary ESL Coordinator:

Summer School Secondary Director: Liz Pena liz.pena@birdvilleschools.net

Richland High School

5201 Holiday Lane East

N. Richland Hills, TX 76180

817-547-7000

Principal:

Assistant Principal:

Registration and Course Information

All information regarding summer school may be obtained from the lead counselor on your campus. Below is the contact information for each school:

High School Lead Counselors

Haltom High: jayla.maehs@birdvilleschools.net

Richland High: vanessa.matschulat@birdvilleschools.net

Birdville High: cindy.larson@birdvilleschools.net

Collegiate Academy: jeannie.mata@birdvilleschools.net

High School Summer School Program

ESL/Newcomer

(International Student Summer Program)

Is this program optional for my student(s)?

The International Student Summer School provided by the district is designed for students to receive credit for courses they missed or to obtain credit for courses they plan to take in the future.

Learning Platform

Varies. Depending on the course and teaching strategies utilized by the teacher.

Where do the students learn?

Face-to-face with a teacher in a classroom from 10:00 AM -2:30 PM Monday-Thursday. The teachers will use strategies that increase students' understanding of content as well as language acquisition.

Location for 2022

Richland High School

How does my child get there?

Transportation is provided to Richland High School as long as you sign your child up for it when you register.

Summer Hours at Richland High School

The summer school program is open from 10:00 AM-2:30 PM daily, Monday-Thursday, from June 5 - June 29, 2023. Monday, June 19, 2023- Juneteenth Holiday (District is closed)

What about accommodations?

Accommodations for 504, special education, and emergent bilinguals will be followed and supported in summer school. Please check if your student receives accommodations when you register.

Cost

Free to students

What courses are offered in summer school?

Government/Economics

English III

Geometry

All courses are subject to teacher availability and enrollment requests.

Technology

All high school students must have technology access each day per course while on campus at Richland High School. Students who have already checked out a Birdville ISD Chromebook will keep it for the duration of summer school.
REQUIRED SUMMER PROGRAMS

In accordance with the Commissioner's Rules (Chapter 89.1250), Birdville ISD provides a summer school program for English learners who will be eligible for Kindergarten and Grade 1 at the beginning of the next school year.

The summer program is designed to provide students with special instruction to prepare them to be successful in Kindergarten and Grade 1.
The focus of instruction is on language development as well as essential knowledge and skills.
The program addresses the affective, linguistic and cognititve needs of English learners.
A student must be participating in the required bilingual or ESL program as determined by the Language Proficiency Assessment Committee.
Participation in the summer program is optional.

Additional information will be posted prior to the enrollment for the summer school program.

Please contact Maria Saladin, Dual Language/ESL Coordinator at 817-547-5784 with any questions.