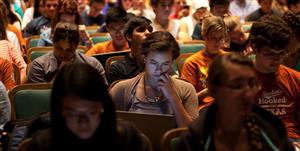 Texas Success Initiative (TSI)
TSI is a state legislated program designed to improve student success in college by requiring all students attending public institutions of higher education, to complete assessment in reading, writing and mathematics before enrolling in college classes. Preparing for assessments is encouraged since test scores determine course placement.
Test Preparation for the TSI

Students can prepare for the TSI by reviewing relevant subjects (i.e. reading, writing and math) for the exam. We recommend using the Accuplacer Study App. After selecting the link provided, you will be asked to create an account at no charge. Select the TSI test and it will guide you through your choices.

The ACCUPLACER Web-Based Study App features practice tests in Arithmetic, Elementary Algebra, College-Level Math, Reading Comprehension and Sentence Skills. You can access the site from your computer, tablet, or Smartphone (see supported browsers & mobile O/S below) and familiarize yourself with the basic content areas of ACCUPLACER tests. The Study App site includes the following features:
"Learn As You Go" tests provide you with explanation of the correct or incorrect responses
Sample Tests help you experience what a real test may be like on test day
Save your work and process, and resume practicing at a later time
Review your score history to identify areas of strength and weaknesses
6 months of access to the ACCUPLACER Web-Based Study App