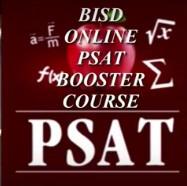 BISD is offering an Online PSAT Booster Course that is designed to give BISD students an opportunity to practice and prepare for the PSAT and will be offered through the Canvas Learning Management System. This course will guide students through online resources designed to help prepare for the exam. An online learning coach will guide students through the process of using the online resources and will evaluate student progress through a series of assessments and feedback to assist in strengthening their skills. Students will also receive information on the structure and design of the PSAT and what to do on the day of the test. The course will begin within 24 hours of the student's registration (excluding weekends and holidays). This course must be completed no later than Oct. 18, 2016. See your PreAp/AP teacher or counselor should you have any questions.
Limited enrollment is available to non-BISD students at a cost of $50. Please contact Carol Adcock at carol.adcock@birdvilleschools.net for registration information.
Once you complete your registration, please monitor your Birdville Student Gmail account within 24 hours of registering for course activation instructions. If you do not receive this notification, please contact

carol.adcock@birdvilleschools.net

.
To register for this course, please click HERE.
Cost: $35 administrative fee
PSAT Test Date: October 19, 2016