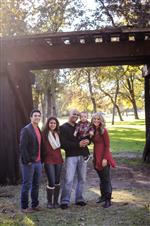 Dearest Ram Family,
What a pleasure it is to serve as your Principal. Richland Middle School is a special place and I am extremely excited about the opportunity that exists for us to partner to do many great things.
There's an old adage that says "do what you love and you'll never work a day in your life." I can honestly say that I've been living out my passion and love for the past 10 years in education (all served in BISD) and I look forward to the years ahead as we embark on a new journey together at RMS.
I hold education near and dear to my heart. If not for the many caring and devoted educators in my life along the way I don't know where I'd be. RMS will indeed be a place where student's feel welcome, nurtured, motivated, and confident that their voice matters. I have full faith in our staff and students that we will do a number of great things this year and the years beyond.
President John F. Kennedy once said "for of those to whom much is given, much is required." You, the community and stakeholders of RMS, entrust us with a great responsibility...your children. Please know that we take this to heart. It is our intent that students grow each year and by the time they leave our halls at the end of 8th grade they are extremely prepared for their next step in life, and beyond. We are here to help you create the future we want for all of our children. A future of hope; A future of commitment to fellow man; A future of service to their communities; A future filled with unlimited possibilities! We can make it happen! We will make it happen! We will do this together!!
Committed to the service of the RMS Family,
James Whitfield
817-547-4400
james.whitfield@birdvilleschools.net
"Our mission is to create a safe, nurturing environment rich in opportunities for students to learn and grow."