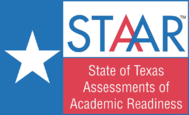 The STAAR program for grades 3-8 assesses students in reading, mathematics, writing, science, and social studies. Students taking certain high school courses are assessed through STAAR end-of-course (EOC) exams in Algebra I, Biology, English I, English II, and U.S. history.
Elementary and Middle School Testing
Students in grades 3 through 8 participate in the following STAAR assessments:
Grade 3 Reading and Math
Grade 4 Reading, Math and Writing
Grade 5 Reading, Math and Science
Grade 6 Reading and Math
Grade 7 Reading, Math and Writing
Grade 8 Reading, Math, Science and Social Studies
Student Performance
Scores on STAAR assessments are used to determine levels of performance as follows:
Level III: Advanced Academic Performance
Level II: Satisfactory Academic Performance
Level I: Unsatisfactory Academic Performance
Time Limits
A four-hour time limit is in place for STAAR assessments for grades 3-8 as well as EOC exams in Algebra I, biology, and U. S. history. Students will be allowed five hours to complete EOCs in English I and English II. Extended time accommodations are available for certain students with unique learning needs.
Test Versions
STAAR tests are available in Spanish in grades 3 through 5. Alternative versions of STAAR assessments are available to students for whom a committee (e.g. ARD, LPAC, 504) has determined a need for accommodations not available through regular STAAR assessments.
Grade Advancement and Graduation Requirements
The Student Success Initiative requires that students in grades 5 and 8 pass both the reading and math exams to be promoted to the next grade. Students are provided three opportunities to test in the spring and summer. As one of the requirements for graduation, students must meet the Level II satisfactory standard on all five EOC assessments. Students may retest as many times as necessary in a subject area in order to meet this requirement.
Testing Calendar
The state testing calendar is based on a calendar year, rather than on the academic year. The state assessment calendar is available at http://tea.texas.gov/student.assessment/calendars/ .
The following provides an overview of the months when tests are administered. Please note that these are subject to change and the official state assessment calendar should be consulted for specifics on testing dates.
Late March/Early April
STAAR EOCs: English I; English II
STAAR Grades 3-8: Writing 4 and 7; Math 5 and 8; Reading 5 and 8
May
STAAR EOCs: Algebra I; Biology; U.S. History
STAAR Grades 3-8: Math 3, 4, 6, 7; Reading 3, 4, 6, 7; Science 5 and 8; Social Studies 8
STAAR Retest: Math 5 and 8; Reading 5 and 8
June
STAAR Retest: Math 5 and 8; Reading 5 and 8
STAAR EOCs: Algebra I; Biology; English I; English II; U.S. History
December
STAAR EOCs: Algebra I; Biology; English I; English II; U.S. History